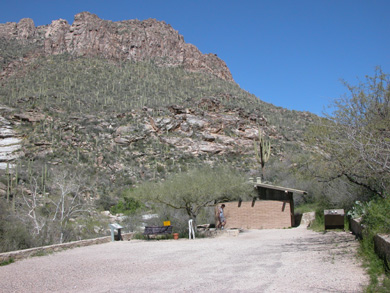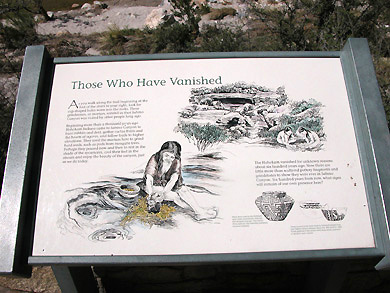 TEXT RIGHT: "Take a moment to look where the giant saguaro cacti grow on the opposite canyon wall. Lip-canyon, to your left, you see many saguaros, but down-canyon, to your right, relatively few. Why is this?


On clear winter afternoons the sun shines directly up Sabino Canyon, heating the rocks on slopes lacing down the canyon. These rocks in turn keep young saguaros warm through chill winter nights, while elsewhere the tiny plants freeze and die. To your left you see slopes that are warmed by the winter afternoon sun; to your right you see slopes that are not.


Freezing sets the limits for many plants here at the cool upper edge of the Sonoran Desert. The cactus-rich plant community where saguaros grow is called Sonoran desert scrub. The cactus-poor community on the cooler slopes is called semidesert grassland. It is beyond the desert's edge."
Scene looking left -- many saguaro. (read text above)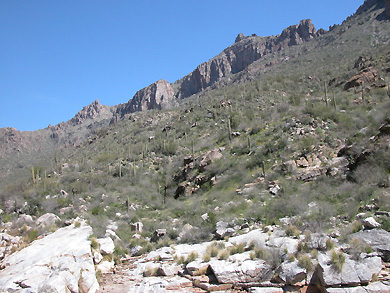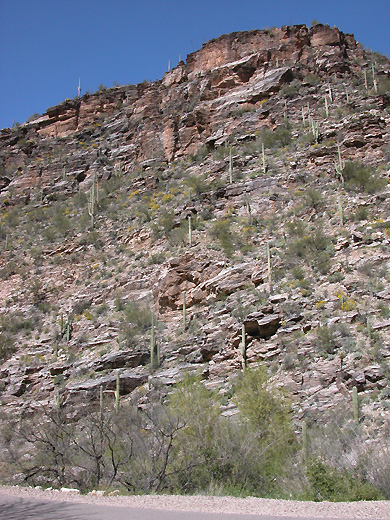 The road we walked on crosses the river in many places.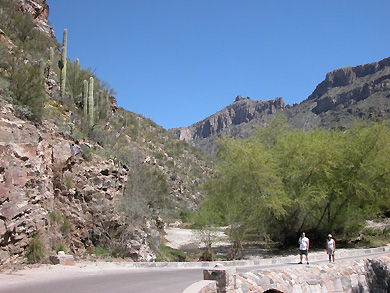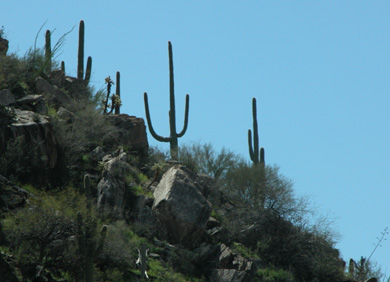 A person seeing me take this told me it was a disguised cell phone tower.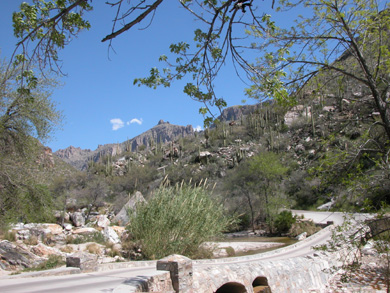 Above, another view looking back at Thimble Peak.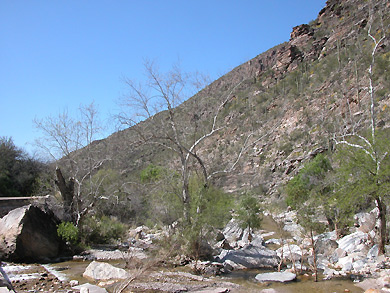 TEXT LEFT: "As you walk along the trail beginning at the foot of the stairs to your right, look for cup-shaped holes worn into the rocks. These grindstones, or mortars, remind us that Sabino Canyon was visited by other people long ago.

Beginning more than a thousand years ago Hohokam Indians came to Sabino Canyon to hunt rabbits and deer, gather cactus fruits and the hearts of agaves, and follow trails to higher elevations. They used the mortars here to grind hard seeds, such as pods from mesquite trees. Perhaps they paused now and then to rest in the shade of the sycamores, cool their feet in the stream and enjoy the beauty of the canyon, just as we do today.
The Hohokam vanished for unknown reasons about six hundred years ago. Now there are little more than scattered pottery fragments and grindstones to show they were ever in Sabino Canyon. Six hundred years from now, what signs will remain of our own presence here?"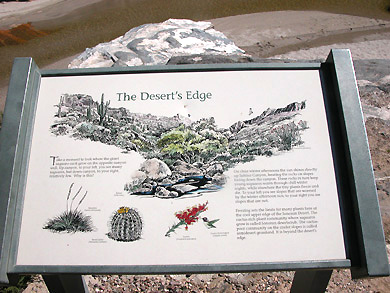 Scene looking right: -- no saguaro;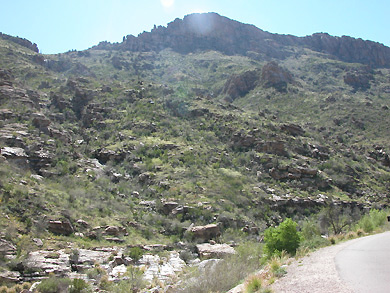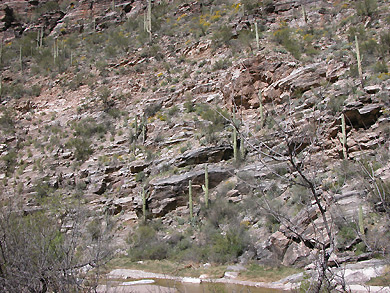 No shortage of saguaro here.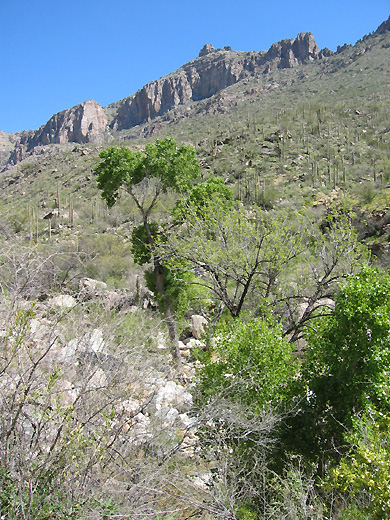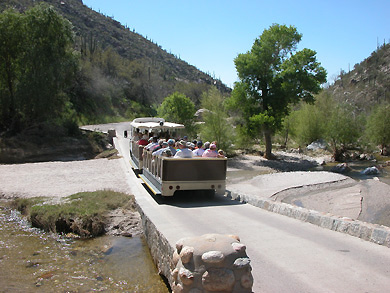 The lazy folk that rode down. They missed the fun but had dry feet.