Three Mile Walk -- Bryce Canyon
We left the sign at 1:26 PM. Below, view from the rim.

To the left is a map of the Bryce Amphitheater. At the bottom of the map is Inspiration Point where we were on our morning drive. The three mile walk that Elaine and I took started at Sunrise Point near the center of the map. The yellow dotted line illustrates the trail. First, going counter-clockwise as they suggested, we took the Queens Garden Trail, all the way, down 580 feet to the intersection of the Navajo Loop Trail and Wall Street. We wanted to take Wall Street, which is longer but less strenuous. As you will see in the pictures below, the Wall Street trail was blocked and a scary red sign recommended we not take it. The Loop Trail, which we took is steeper but shorter. It switched back and forth up 580 feet to the rim at Sunset Point. Then, totally exhausted, we caught our breath and walked the remaining half mile along the Rim Trail back to where we started. It's all pictured below and following the pictures will not exhaust you as did the walk itself. But, it was well worth it. If we are ever at Bryce Canyon before we are too old, we would take the walk again. Not to take more pictures -- we took lots, but to experience the most beautiful scenery, in my view, I have ever experienced.

Shows how close we are from the rim -- just above Elaine.
A more expansive view from the rim. (A stitch of two pictures.)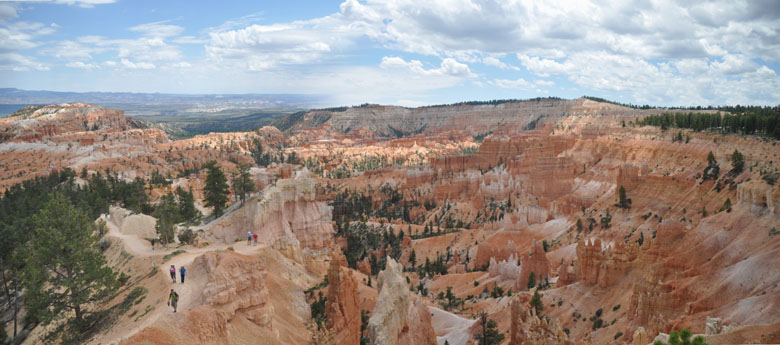 Five minutes later, we see where we are going -- way down!
Finally, we have descended to the lowest part of the walk. The walk will be reasonably level while we find the Navajo Loop Trail or Wall Street trail to climb back to the rim. If you read my lengthy paragraph above, (wouldn't blame you if you didn't) you know the answer. Let's plod on.
So, we can't take the longer, less steep return -- we must take the Two Bridges trail which gets us to the same place, Sunset Point, but the climb might be more exhausting. So be it.
What is Marv trying to photograph above? The chap at the top of this difficult climb. He made it, we're still trying.
Seemingly endless switchbacks. But there is light ahead.
Finally, we arrived at the rim and the expansive view of the other side. We have only 1/2 miles to go on level ground, and we will be back where we started at Sunrise Point.

Another perspective.
Note the band of white rock all through the pictures above and below. Our hike went below this layer. Click here.

I can't resist stitching pictures. Carefully taken, the stitch can be done using Panorama Maker, made by Arc Soft.

| | |
| --- | --- |
| The next page is Zion Canyon, and perhaps our trip into Las Vegas. perhaps We also went to Hoover Dam although that wasn't part of this Vantage tour. | Home at last. We left at 2:26 PM and were back at 4:35. Our daily three mile walk usually takes about an hour, but without taking lots of pictures and no big altitude changes. At the end of day, Elaine's pedometer said 20,013 and mine was 17,027. Normally, walk over 10,000 steps each day. |