Worcester -- and the magnificent Worcester Cathedral
| | |
| --- | --- |
| This is the magnificent Worcester Cathedral. For the Three Choir Festival, there was a huge riser in front of the altar where the chorus was seated. It consisted of the combined singers from Worcester, Hereford, and Gloucester cathedrals. There is no pipe organ seen here. Most of the organ music is electronic using speakers mounted all around the top. More about that later. Our seats for the festival were about half way from the back to the front. | |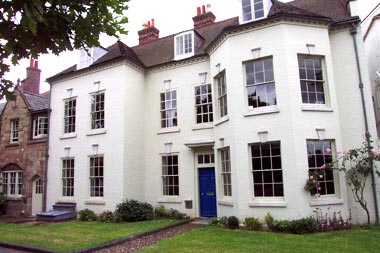 We stayed in one of these two residence halls. We lived
closer to our seats that the back seats were from the choir.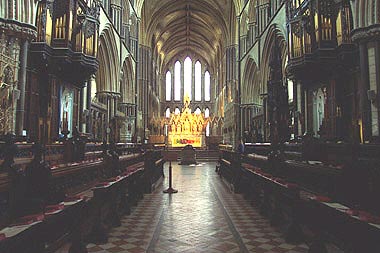 Back to the cathedral -- this is the choir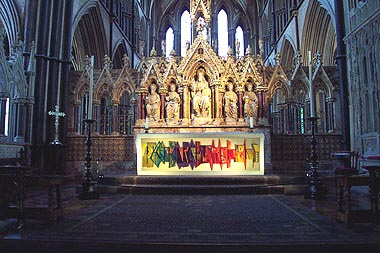 and this is a closer view of the altar.
| | |
| --- | --- |
| Looking back from the altar. | This is the crypt below the main sanctuary. |
| | | |
| --- | --- | --- |
| | | |
| Another back-look, showing the ceiling. | This is the old organ tucked away in a corner where it can't be heard. The electronic organ is a simulation of these very pipes. It sounds good for an electronic. . | With so many trees, it's hard to see the cathedral from outside. |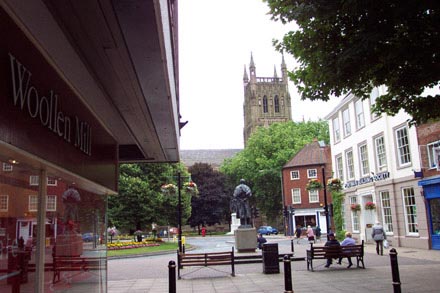 This is a nice picture of the courtyard in front of the cathedral. Right behind me is a nice shopping street where we spent a lot of time shopping the week we were here in 1993.
But, we were in a hurry to get to Cheltenham, our next goal. We stayed there five nights and took LOTS of pictures, mainly of friends.