Our Six Days in Cheltenham
The first two days.
We lived in Cheltenham from 1991 until 1994. The house we stayed in is pictured on the right. Many of you got letters from us with a line art version of this house. We really lucked out then by finding out about the Herons who were in the last throws of having a beautiful house build by a Danish builder. He had spent several years in the USA on a similar tour and wanted a house more like American houses. We agreed to be the first occupants in his dream house when he had a chance to serve another tour in America.

Thursday afternoon. We knocked on the Heron door and had a nice chat with Jean and her daughter -- larger than we remembered. Andy was at work and we didn't see him.
| | |
| --- | --- |
| Across the street live the Winders, and they were home and asked us in for a cup of tea. | They look no older than they did 7 years ago. They are in their eighties. The dog he's holding was new when we were there. |
| | |
| --- | --- |
| We decided to walk the walk we normally did to get to our church, St. Philip and St. James -- warmly referred to as Pip & Jims. | This is the last small lane before Bath Road. We considered buying one of these small flats before leaving England. |
| | |
| --- | --- |
| Indus Restaurant -- we ate here later this evening. | Pip and Jims. We never got inside with our tripod. |
We had time to kill since Catherine Martin, the former co-worker who offered to put us up for two nights, wouldn't be home from work yet. So, we walked around the Cheltenham city center.

Two views of the Regency Arcade, one from the lift and the a close-up of the famous clock.
The Promenade. These creatures were not here in 1994.
| | |
| --- | --- |
| Friday, lunch. We had planned to worship Sunday at North Leach where David Nye, our vicar from Pip & Jim's, now serves. He emailed and told us to come Friday for lunch instead. This is their beautiful parish church. | I had my tripod and took this still while a wedding was being initiated. Whilst having the tripod out, I took this time delayed shot of Janet, David and the two of us. |
| | |
| --- | --- |
| We had to rush back to Cheltenham to visit Shirley Vockins, Elaine's very good friend from work. | Shirley really likes her view from her dining table. |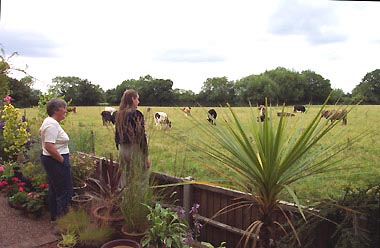 This is the beautiful view from her garden.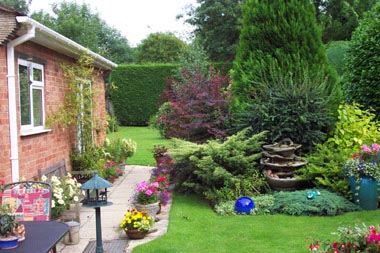 And her front garden is no shabby place either.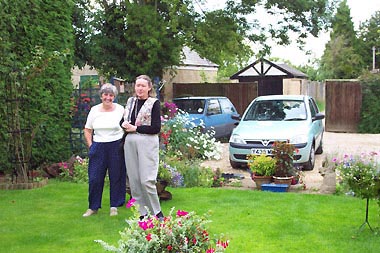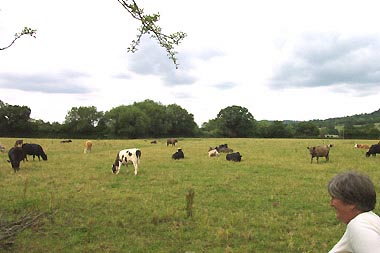 It's so wonderful to see so many healthy Cheltenham cows..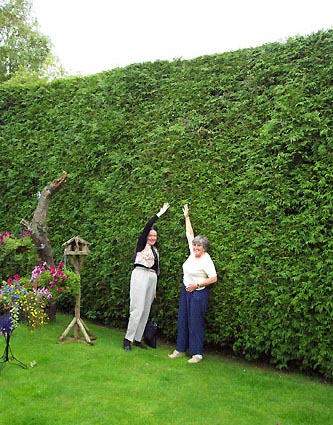 Can you imagine how one trims hedges this size? We will have more to say about that later when we visit another friend.
After leaving Shirley's, we headed back to the Pump room area of Cheltenham where we were staying with Catherine Martin, our good friend from work and the Bach choir.