From St. Louis to Cody, Wyoming
From my sentimental journey through Illinois, we drove the short 35 miles to St. Louis. My brother, sitting next to Elaine, and his wife Joan, have recently moved into a Lutheran senior resident village called Merrimac Bluff. We've been there before and even saw the facility before they actually moved in. We spent two nights there May 19 and 20, and stayed in one of their guest rooms. Their apartment isn't large enough for overnight guests.
They seem very happy with their move. What with all our driving around Illinois, we barely got there in time to eat dinner with them in their cafeteria. The next evening, we took Ken and Joan out to dinner and the picture on the left is the four of us eating dinner in one of their favorite Chinese restaurants.
Carol was a percussionist in the Concordia Teachers College band, and over the years, developed a fantastic facility to play the solo bells. Here, she is performing one of her pieces with Don accompanying on the piano. She is playing the piece she is mastering for this year. (Children of the Heavenly Father, I think.) She tells us that the hardest thing she must do is to choreograph the piece.
After bidding farewell to Ken and Joan on Friday morning, we drove straight (and I mean STRAIGHT! Not many curves and hills in Missouri and Kansas.) to a little town of Phillipsburg, Kansas. Karen Williams moved there from DeKalb some years ago. While we all lived in DeKalb, the Wunderlich's and the Williams' threw the annual "Guinness Party" which famously consumed a half barrel of Guinness and Bass Ale.

This is her house and the three of us in her house.

We rarely travel to St. Louis without visiting Carol and Don Petering. Carol was Elaine's college roommate.
Since she is the only player, she must always put the bell down where she expects to pick it up several measures later. The four of us are pictured below. We have been trying to get them to visit us in Silver Spring so she could play a concert for the folks at Riderwood. They would love her.

And the picture left requires some explanation. On the way to Phillipsburg, we stopped to buy a bottle of wine for Karen and also bought a six pack of Guinness. Leaving the store, the disturbing smell of burning rubber and the increasing temperature hinted that our AC was failing. It was 97 outside. At Karen's, I decided to add some water to the radiator since the temp looked rather high, and after the engine cooled off, I opened the hood and added about two quarts of water to what I thought was the cooling system. The cap was right in front where they always are. Odd -- two quarts? To my astonishment and embarrassment, I noticed I had added water to the engine crankcase. The cooling tank was on the right! Of course, that required a morning tow and an oil change before I even started the engine.
Next, a hot drive through Nebraska into Casper, WY, only to find all the hotels filled. So, we stayed in Buffalo, WY. That was a new Buffalo to us as well!
Buffalo, Wyoming is in the North East corner of the state. All the signs said the most scenic route to Cody, our next target, is through the Bighorn National Forest on highway 15. So that's where we headed.
Elaine was driving and I was following the route on our Cobra GPS 1000 which we bought with

This was taken through our front windscreen of the Mercedes. Note the little GPS screen on the right. A close-up below certifies that we were indeed on highway 15.
Left is Powder River Pass, 9,666 feet above sea level.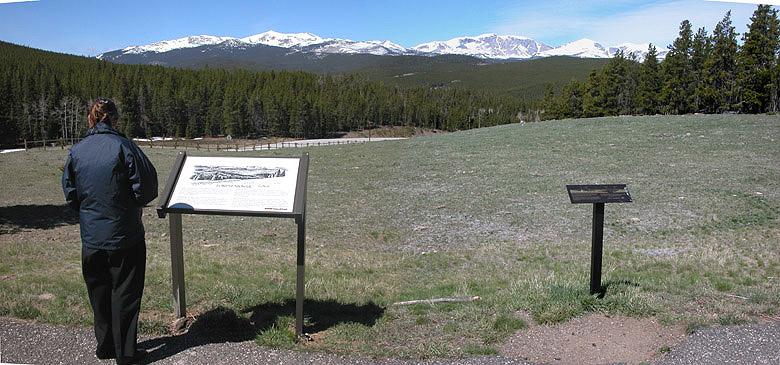 This panoramic stitch is what we saw just before arriving at the pass. To see what Elaine is reading, click HERE.
The road was much more curvy and beautiful coming down from the pass. All six of these photos were taken from one scenic overlook about a half hour from the top of the pass.

So what's Marv looking at ???

This babbling brook I guess.
Finally, the day was done and we slept well in Cody, WY. The next morning, we didn't start taking pictures until we entered Yellowstone National Park.
Table of Contents : Comments are always welcome.