Astoria -- Lewis and Clark's last Stop
This day, we planned to drive from Portland to Tillamook, Not the shortest way by route 26, but US 30 to Astoria and south along the Oregon coast. Our first stop at around noon Monday, May 30, was Astoria. This was the farthest West that Lewis and Clark went in exploring the unexplored West. There are many interesting stops and explorations in that historical city and many of them are displayed in this page of our web site.

First, let us look at a detail of this fascinating place.
Here is the same view eight minutes later from the top.
Looking back up river across to Washington state.

If you follow the yellow marks from the Visitor Information Center below, you see our drive to the Asoria Column, our first stop in this interesting town. It was reputed to give the best views of the entire bay area.
This is what this bridge looks like at the base of the tower.
Looking down on our car -- can you spot it?
And this is where we were

. The map left shows our next visit, the Fort Clatsop National memorial -- bottom of map. This is where Lewis and Clark spent the winter before returning to St. Louis. The map below shows the entire Lewis & Clark expedition which was so interesting to me, I have enlarged it for a full screen presentation.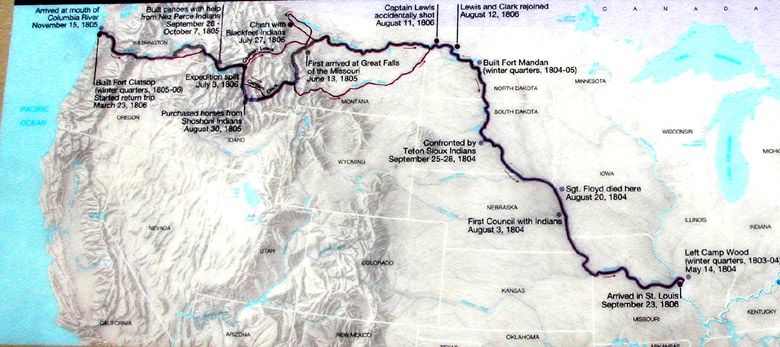 For more, see http://www.oldoregon.com/Pages/fortclatsop.htm

The Lewis and Clark group stayed here from December 7, 1808 until March 23, 1806.

Sorry about the blur above.

Actually, this was pretty nice three month home for them.

Actually, the accommodations weren't all that bad.

To supply their return, they killed more than 130 elk, 20 deer and many small animals during the winter.
It was so rainy, they stayed mainly indoors those three months.
Next, we go down the Oregon Pacific Coast.
Next, join us in our brief exploration of Ecola State Park, about 30 miles to the south.

Table of Contents : Comments are always welcome.