Thursday
| | |
| --- | --- |
| We had no other scheduled events until the evening concert, so we made the short drive to Worcester, the location of the last three choirs festival we attended ten years earlier. Our primary objective was not the view the cathedral once more, but to visit the Royal Porcelain Works, located near the cathedral. We had bought some glassware there nine years ago and we had broken so many, we thought we could replace them. Unfortunately, they radically changed their stock in intervening years. But, we found a nice set of six sturdy brandy glasses to buy instead. Hopefully, they won't break soon. | <--- This was our walk to and from the cathedral. We parked our Fiat at a news agency, and made the rest of the way on foot. This morning, we attended an 11:00 A.M. concert in the cathedral, entitled "Ex Cathedra". It was very old choral music from the Catholic tradition in South America. I thought it sounded very Monteverdi like and wondered how music could have evolved in South America exactly as it did in Italy -- until I read the program notes. These composers emigrated to South America in the 16th century and took their music with them. It was beautiful. |
Thursday Evening Concert.
1. Overture: "Froissart", Op. 19. by Edward Elgar 1857-1934. We had just left Elgar's hometown, Worcester. It seems Elgar had studied Wagner's overture to Die Meistersinger, and this beautiful piece really has parts that are quite similar to Wagner's masterpiece. I thoroughly enjoyed it.
2. Voces clamantium. C Hubert Parry. This was a commissioned work for the 1903 Three Choirs Festival and was repeated once at the 1909 Three Choirs Festival. Program notes say nothing about any other performances. Most persons we talked to in our section were not surprised. In fact, it did not bode well for the upcoming work after the interval.
3. Air and Angels, World premiere. Anthony Powers b 1953. This work, by a local Hereford composer and commissioned for this year's festival, tried to interpret the beautiful language of John Donne (1572-1631) with orchestra and chorus. After a thunderous applause from the local audience, bringing the young composer back to the podium over and over, the persons in our section thought John Donne should have had something to say about it. I doubt if it will be repeated more than once in the next hundred years.
Friday
Our day was to begin with an internet date at the library at 10 A.M. followed by an organ concert at 11 which was the only extra event we bought. Recall how the organ is situated in the sanctuary. Those seats at the bottom are close to our regular seats but just in front of the organ are the choir seats. I should have known to make sure we sat in the choir section since we didn't have assigned seats. Rather,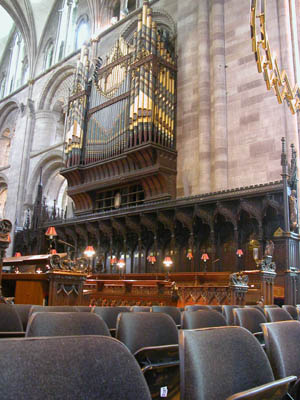 I asked at the entrance where the best seats were to hear the organ. The usher said he was told to direct persons to the North Transept -- well away from any organ sound. I should have known better. We were near a video, however, and could see him perform. The organist was John Scott, concert organist/Organist & Master of the Choristers at St. Paul's Cathedral, London

Sonata in C minor Percy Whitlock
Concerto in G minor Georg Frideric Handel
Sinfonia J.S. Bach
Cantabile # 2 Cesar Frank
Variations de concert Joseph Bonnet
Handel in the Strand Percy Grainger
Toccata Op. 11 Sergey Prokofiev
Above and below are two scenes from the city square in Hereford.
A very lovely glass shop in the square. We bought four very nice glasses to drink our single malt Scotch we will buy duty free for the flight back.
Never found out why the U.S. flag is on display here.
This is the group from Tunbridge Wells.

This is Barbara, one of our frequent dinner mates, sketching the scene to the left. I wish we had her sketch to include in this website.
We never did find out why the American flag is pictured here.
This is the newsagent we visited every day to buy our International Herald Tribune. That cutie in front is Elaine, and I never got to photograph the cutie inside selling papers.
Eating in the dining room.
Pat and Elaine at our usual table. That chap second from the right wrote reviews of the concerts in a local newspaper. He referred to himself as "The very reverend Doug." I said I was "The very irreverent Marv."
Friday Evening Concert.
The highlight of the whole week was a fabulous concert of Requiem, by Gueseppe Verdi. It was a wonderful performance and literally brought down the house with all 1300 persons attending acclaiming the fine work done by all the musicians.
Afterwards, Pat, Elaine and I together with friends of Pat walked down next to the River Wye to a bridge and patiently waited for the fireworks display to end the week's events. Then, we walked back to our waiting coach and were back in our rooms by 11 or so to get ready for our leave on Saturday morning.
Elaine was among the first at breakfast.
A last look at our lounge. It wasn't used all that much as far as we could see. Next stop, WALES -- via Shrewsbury to see the birthplace of Charles Darwin.

This entire section was reserved for our group.
We had to rescue the cheese that we stored in the fridge.
Please join us in our trip through Wales, via Shrewsbury