Our tour of Avignon; Saturday, July 3.
Needless to say, we spent more time then we had expected on this bus. Steve ahead getting up for a leg stretch.
We slipped through this little passageway, (Hernando's hidaway?) and were walked through lots of narrow roads and alleys until emerging into this huge square with the imposing spired building seen to the right.
I was at once stunned by the gold statue at the topmost structure, and got the two pictures below.

Our tour guide explained how this statue was gilted only recently.
She also told us why this bridge was only built half way across the river. We did not get any written information about this, but my recollection is that it was simply never finished for some reason.
We were taken to a high point above the village and were we could view the entire village.
The two pictures below are what we saw.

We left Nice early on Saturday morning for Avignon. The pictures left and below were mountains we saw on the way, but we saw them over and over because we took this road on six consecutive days. It remains a mystery why they hoteled us in Nice, far away from concerts and activities.
After we got to Avignon, we were taken immediately to this fortress, and Elaine and I both took a picture of the cross.
We were given time to grab a quick lunch and Elaine and I had a very nice lunch with Bob. Then, we were off with the tour guide for an abbreviated walking tour. We had a 7 PM dinner appointment in Aix-en-Provence for the entire chorus.
This view of the river was really lovely. Note the little cafe at the right, as seen below in my telephoto.

These are actually two stitched panoramic views of Avignon. The one above is a stitch of three pictures and the one below is a stitch of two. These are low resolution and the high resolution versions are really spectacular. They are available upon request. On a PC, right click on a picture, hit properties and email me the file name. I can post the high versions for you to download. This holds for any of my pictures.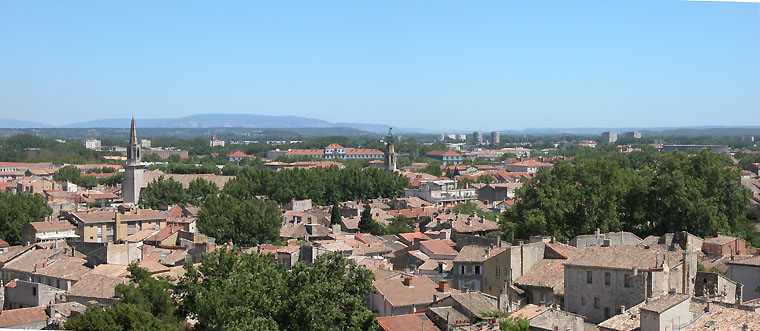 | | |
| --- | --- |
| | |
| But on with the tour. We were shown an interesting building | which had two fake windows. Hugh is real, however. |
| | | |
| --- | --- | --- |
| | | |
| Walking on through the village. | A very interesting statue. | The cathedral in Avignon. |
The interior of the cathedral taken, as usual, from my bean bag.

Above, the backs of lots of people, and the Hotel De Ville. >>

Elaine took this mural, clearly of the cathedral.
Next, visit our afternoon trip to Aix-en-Provence and our first chorus dinner. Table of Contents