Vienna -- our last stop in Europe
We woke up on July 4 to a very rainy, sloppy Vienna. Beth took this picture on the coach tour. Since we took that tour with the TWC in 1998, we decided to skip it this year, and post the pictures we took in 1998. Click here to see them.

Displayed inside was the portable piano Gustav Mahler took with him when traveling.

The very ornate interval rooms

Our guide told us that this was a modern work of art and the figure at the far left represents a stage worker making a wig.

A very impressive enclosure -- .

The standing section where one can see the opera for 3 Euros.
Two forms of transportation here. The trams were jammed with people -- too bad trams aren't common in the USA.

Here is the subway just outside our hotel. This was our ticket into the city.
Our first stop was the Vienna Opera House, pictured above.

A portrait of Maestro Mahler

Our pretty tour guide telling us all about the opera house.

not unlike the Met in New York

Elaine working away at an internet cafe.

A very clean metro -- the way we went in and out of the city.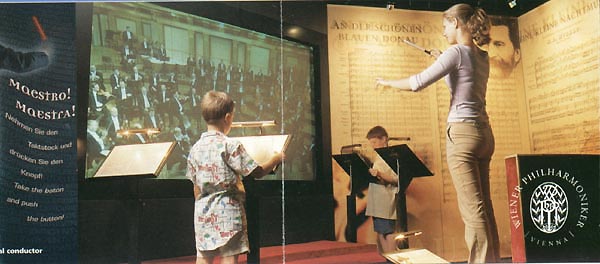 Our last stop this morning was the House of Music. This is a new, state-of-the-art music museum similar to the popular science museum. The picture on the right is their exhibit in which you can actually conduct the Vienna Philharmonic Orchestra and the orchestra follows your beat -- that is until you screw up. Then, one orchestra member stands up and swears at you in mean sounding German and they all stand up and shout at you. If you get through the whole piece,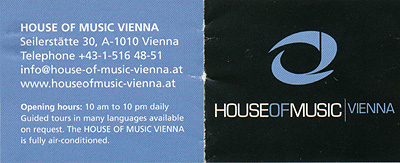 they all stand up and applaud -- and you are invited (for a fee) to pick up a certificate at the shop stating that you successfully conducted the V.P.O. Neither of us succeeded. We heard that Ken Bailes got the applause, (after several tries) but our great leader, Bob, didn't. At the rehearsal, he thanked our orchestra for playing for us despite the fact that he is unqualified to conduct the Vienna Philharmonic Orchestra.
The next event was our wonderful, wunderbar, River Cruise.