Our second full day in Vienna. Some sightseeing, and pictures of Stephandom
The interior of the beautiful and impressive Stephandom.

This huge sign advertised our concert

Here is our ad!

Another far view of the interior of the Stephandom

Only two views were unobstructed by scaffolding

The view below would have been smashing without the steel.

Now, we were assembled for our afternoon rehearsal.

Looking back from our risers to the organ in the back.

We lined up for the concert, and saw these classy taxi's for the wealthy set that attends these events.

The magnificent exterior. I either used a very tall tripod, or scanned a post card. You decide!

A crowd is waiting to buy tickets.

Wanna get a better look at it?

We climbed the 360 or so steps to the top of the tower.
It's lots easier climbing down, right Elaine?

A close up of the front chancel

The pipe organ at the back of the cathedral

The pipe organ on one side of the cathedral.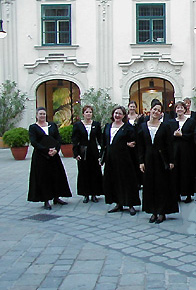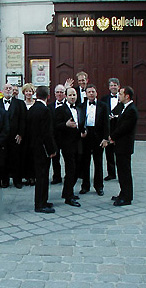 We lined up outside of the cathedral in our concert order, and since I forgot to stow my camera in the warm-up room, I could respond when Dianne saw the lineup and said, "Anyone have a camera?" These were taken just before we entered the cathedral for our performance, and what a performance it was. To think we were singing Mozart's Coronation Mass in the very space where Mozart married his soprano wife for whom he most certainly wrote the part. And in the very church in which he was buried nine years later.
Next, see our reception and Final Tour Dinner.