Our tour guide begins our walking tour telling Bob, Mary, Rob and Kevin about what we are going to see on the pedestrian
zone. Karlsplatz "Stachus."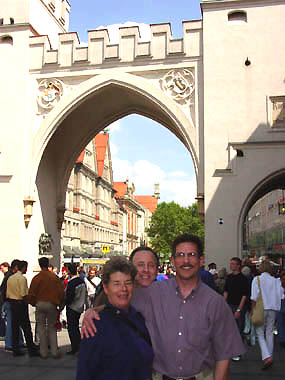 One of 3 remaining gates to the inner city. This is known as the
Karlstor. Meg, Brian, and Ben enjoy the moment being tourists again.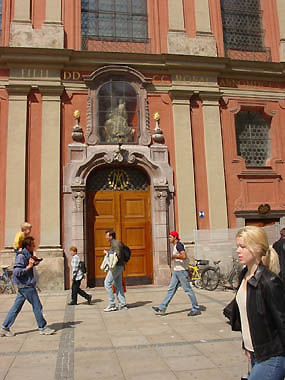 Again, St. Michael's Church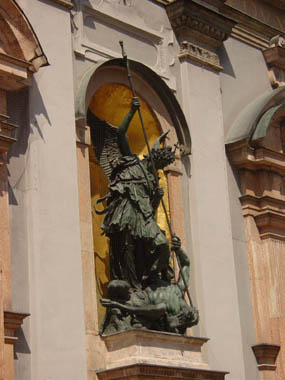 The figure of St. Michael fighting against evil.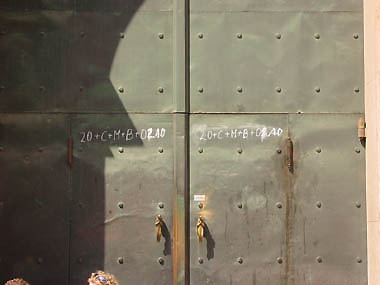 This is an inscription on the church doors that one sees often in
Germany. This is placed on a doorway, even of houses, on Epiphany. It stands for Caspar, Melchior, and Balthazar, the three kings and has the year placed on both the left and the right side of the initials..thus 20+C+M+B 02.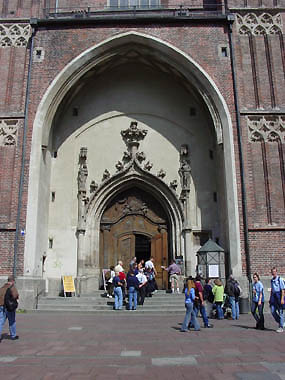 Front door of Frauenkirche (Our Ladies Church)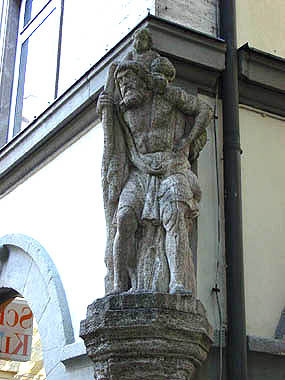 Saint Christopherus, Patron saint for safe travel. He was located on a building currently used for business. I didn't notice if a travel agency was inside.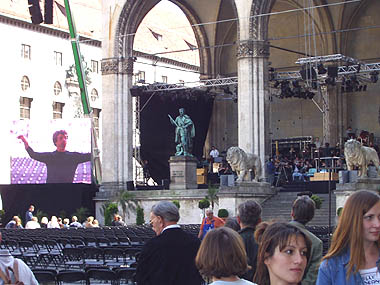 The Munich Philharmonic was rehearsing this afternoon at the
Feldherrnhalle and you can see the large screen on the left that shows the conductor in full form.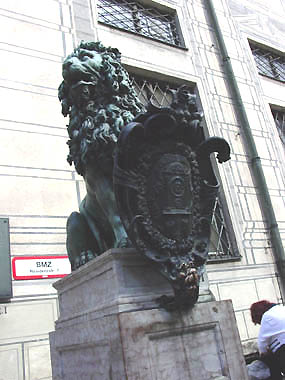 This is one of the two lions outside the Residenz, the palace of Ludwig II and others. It is customary in Munich to rub your hand on the lighter portion of the statue for good luck.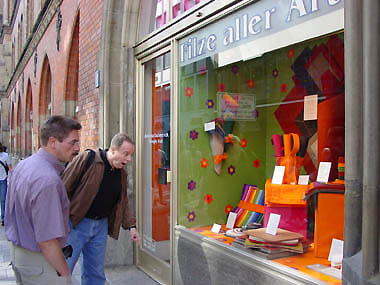 Brian and Ben are taking a look at some fabrics inside at Glenda's request. As a quilter, Glenda looks at all kinds of fabrics these days.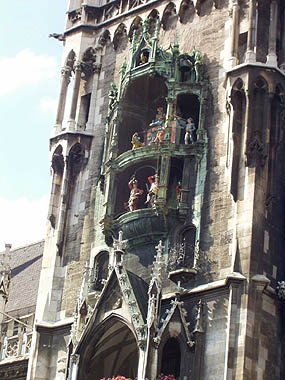 The glockenspiel at the Neues Rathaus, a Neo-gothic structure, built between 1867-1909. Many Munichers were upset that this 85 meter tower might eclipse the majesty of the Fauenkirche, the Cathedral.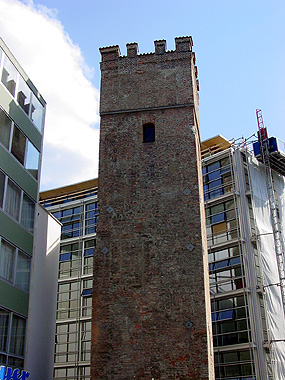 This tower stands in the middle of all the contemporary buildings, even though it dates back to Medieval times. It is only about a block from the Altes Rathaus.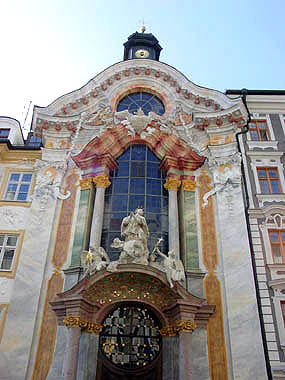 Outside the Asam Church, which was dedicated by the Asam brothers to the memory of St. John of Nepomuk, the patron saint of drowned persons or those lost at sea.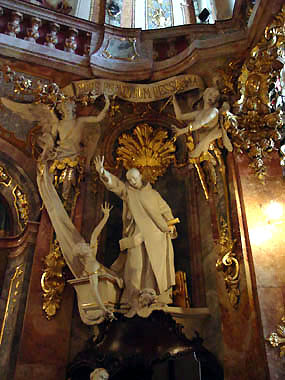 One of the many impressive figures inside the church