The Grand Canyon National Park
Day 10
We arrived at the Thunderbird Lodge shortly after six, PM. We were told by Bill to head straight for the best viewpoint for
Looks like a long queue to me. They seated everyone after three shuttles stopped. The last one was permitted to allow overflow passengers to stand.
Above: Sunset - 3 minutes, Below; Sunset

the sunset. It was long before sunset, but he said they are already queuing up for the shuttle.

Looks like enough sun to me.

We should have waited here for the sun set. The return bus picked up the crowd above before us a stop later.
Above: Sunset - 2 minutes; Below; Sunset + 1 minute.
After not being impressed with the sunset view, we retired to our lodge for a good night's sleep.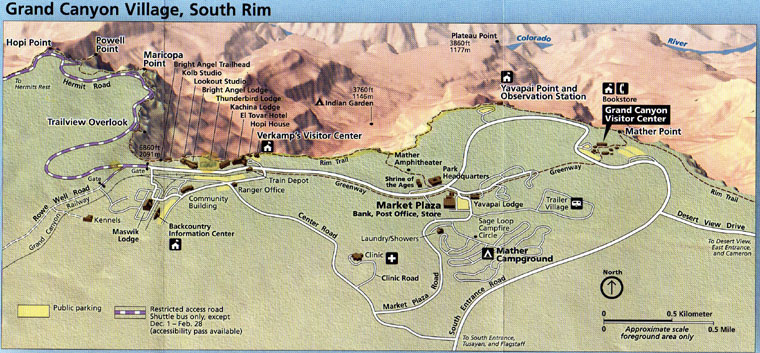 The map above shows the south rim of the Grand Canyon. The place we went to see the sunset is at the top left corner -- Hopi Point. We stayed at the Thunderbird Lodge which is marked in yellow. We took a morning hike before breakfast on the Bright Angel Trail. We were told that the mules leave from there and it is interesting to see the mules meet their riders.
I can't tell where we turned around, but here are the mules.
It was nearly 9 AM, and we had not had breakfast. The mules are fully employed and the time on our next photo is nearly noon. That means we spent the next three hours eating our breakfast and touring the old Grand Canyon Lodge.

Bill said you had to reserve mules months in advance.
We've had our lunch, and are setting out on the rim walk. It's marked above on the map in yellow and goes from our lodge to Yavapai Geology Museum. We post the pictures in the order we took them. The one below is actually a stitch of five pictures.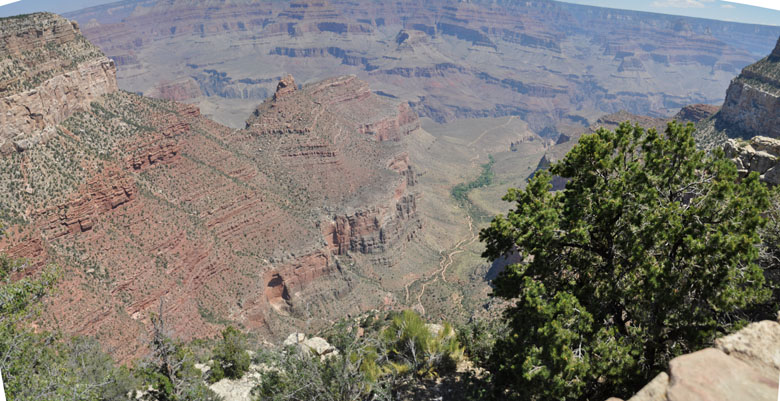 The pictures are posted roughly in the order that the pictures were taken. Very few comments; enjoy the scenery.

Inside of which is a model of the Grand Canyon.

Elaine, walking to the shuttle stop, which brought us 'home'.

Elaine thought she was taking a picture of an exotic blossom. Dianna enjoys the episode.

Roughly 8 PM. A nice end of a great day.

But this little critter is here TODAY.

Below is the Geological Museum.

The following pictures are taken from in front of our lodge.

Turned out it was an orange section.

This was the sunset right outside our lodge.