Salt Lake City -- Day 5 and 6.
I will combine all the Salt Lake City pictures in one table. It begins with our lunch in Logon on the way to S.L.C.
We found a fuzzy view of the temple showing both.

The new Conference Center above.

And our day ends with our visit to the Family Search Center. We were given minimum instructions and told to select a family member that we could we could search for. The criterion was that they were deceased and would have their data in the census of 1940. My father satisfied that and I indeed found out much of what I already knew about dad. I think the woman above is Carole and see my curly hair on the right? I never get to see the back of my head.
Perfect acoustic demonstration in the Tabernacle.

Old fashioned soda fountain from 1914.
This being in Utah, there is a temple -- only one tower showing.
This is the capital building of Utah -- in Salt Lake city.
Upper left, the only picture we got of the five manual organ in the Conference Center the next day.
| | | |
| --- | --- | --- |
| | Many in our group being blessed. | |
We finished our day walking through the Gateway Mall.
Lots and lots of stores with playful things for kids.

Little balls of water popped up for kids to catch.
And, we found a Clarks shoe store that sold Wallabees, the only shoes my brother-in-law wears. The owner of this shop described the future plans for this mall -- interesting.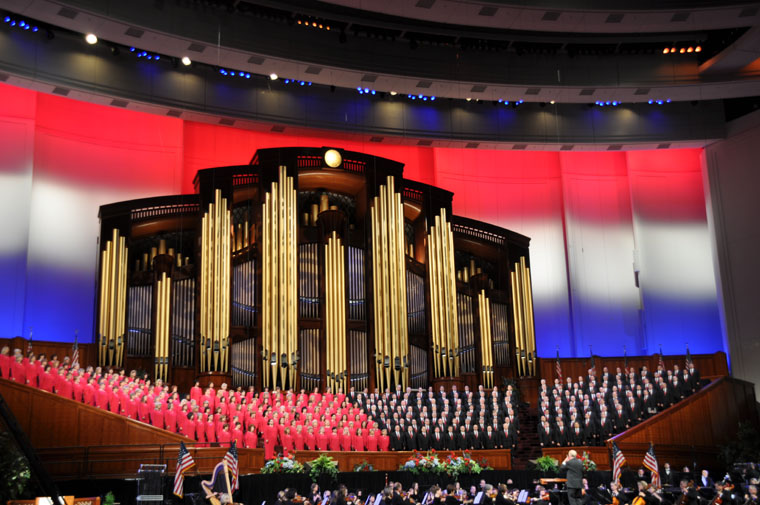 We end on a serious note. The next day, Sunday July fourth, we attended the regular televised service of the Mormon Tabernacle choir in their new conference center. We had seats way in front, in front of Senator Orrin Hatch, who attends every Sunday.