HOME STRETCH! Northern Galilee -- Haifa -- Home
| | |
| --- | --- |
| | No, this church doesn't have seven sides. It refers to the story of the seven loaves and fishes. It is also called the Church of the Multiplication. |
Up the coast of Galilee, we visited the excavated ruin of Capernaum, the site where Jesus preached.

This mosaic was used to date the boat from Ginosar. It pictures a similar boat and is dated from the first century.

Elaine is standing in the courtyard of the old Capernaum synagogue.
From Capernaum, we could see this Greek Orthodox
church in the distance.

One last look at the Sea. Its interior was stunning.
| | |
| --- | --- |
| | We then climbed the windy road to Zfad (Safed) which is close but much higher than the Sea of Galilee. (3000 ft. above sea level.) All we did here is walk around the old city which is a thriving artsy community. We looked into several neat art shops, but were not tempted to buy anything. It was just after 2 P.M., so this was our lunch stop. At a great falafel bar, we met a nice Jewish family from Atlanta who were touring Israel with their own personal tour guide as we did in Jerusalem. |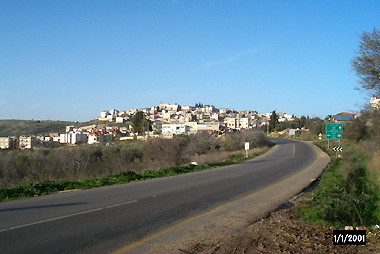 Heading back toward the Mediterranean, this is Safsufa and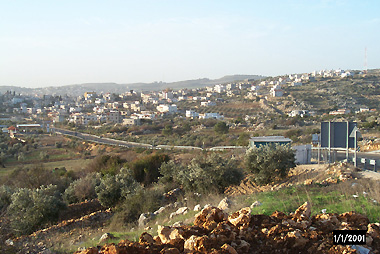 this is Sasa. Nothing is said about these towns in Fodor's Israel.
| | |
| --- | --- |
| Back at the Mediterranean sea. It's getting too dark to take pictures, but the sunset and the sea looking North had to be photographed. Lebanon isn't far from here. | From here, we popped into Akko and then fought our way through Haifa in order to collect Shel. We needed a police escort out of Akko (we couldn't find Rt. 4) and got lost in Haifa, but we made it in time. |
| | |
| --- | --- |
| We wanted to go back to Akko, but decided to go with Ruth the next day to meet two persons that are on her list "Friends of Ruth." We picked her up at the University of Haifa above. | Our last goodbye to Sheldon's rented Fiat. It treated us very well. We'll miss driving in Israel with it's blinking green lights and the funny stop signs with the red hand. |
| | |
| --- | --- |
| Typical ridge homes in Haifa. These reminded us of houses in California. | Taken from Ruth's friend's balcony. That funny-shaped building on the seaside caused much controversy when being built. |
| | |
| --- | --- |
| Another balcony picture. | We dropped off Shel's car at the IBM lab. This is a shopping mall right near IBM with Haifa above. |
| | |
| --- | --- |
| I couldn't find a decent place to take a picture of IBM, so this is Intel instead. This is their high tech corridor. | Flying back in our spacious business class seats. The British Air gal who checked us in liked us, so she upgraded us. |
This was truly a wonderful vacation. We cancelled our Isram tour and probably saw less than we would had we not cancelled. Toward the end of our trip, I thought we would not have to return. However, after our Galilee rapid drive-thru, I'm convinced that a return trip might be in the cards, although not soon. We would like to explore Galilee more carefully, do a day in Akko and study places like Caesarea more carefully. But the neatest thing about this trip was the time we spent with Ruth, Shel, Jenelle and Dustan. That we will probably never be able to repeat, since they are coming home the end of June, 2001.

We are always eager to hear comments and suggestions. Thank you for viewing and we hope you return to our other travel sites we post in the future. For a table of all of our recent sites, just go to http://www.marlaine.com/personal/