Then, we took the new Jubilee line all the way to Canary Wharf. Joan said we could see the doomed dome from there.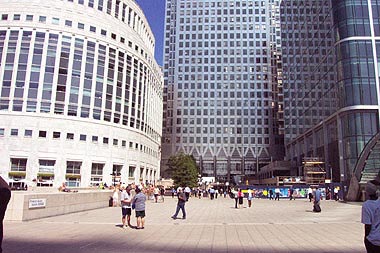 Actually, it reminded us Maryland's Tyson's corner.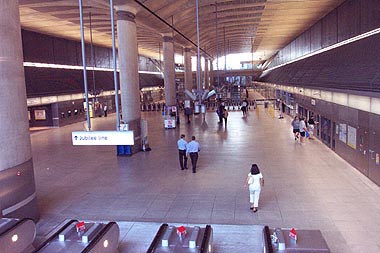 The tube stop here is very modern. Look carefully at the picture above. There is no way one can fall into the path of the the train. Those doors open when the train arrives and the train stops exactly when the train doors match the train's.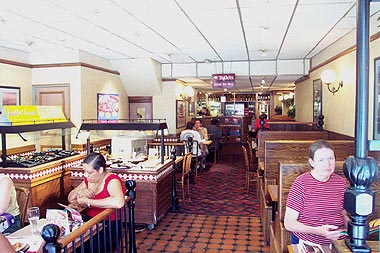 All the Pizza and salad you can eat for 4 Pounds, 95 pence.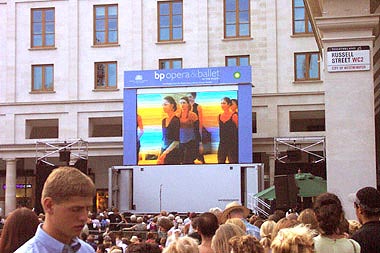 I would have gotten better pictures of the screen if I had reduced the shutter speed.
But our objective was to see My Fair Lady at the Drury Lane Theater. We had waited in a queue to purchase discount tickets earlier that day, and waited for a long time for an Oriental couple (Father and daughter, we think) to choose their play. They were very deliberative, asking the ticket agent to repeat over and over the possibilities before finally choosing their play. Then he argued about the receipt, and on and on and on. When it was our turn, we immediately chose the only pair of tickets left at Phantom of the Opera, and just before the ticket agent clicked on them, someone else at some other ticket agency bought them. I was quite upset at the oriental couple. Well, it turned out, that very couple sat next to us at My Fair Lady. I mentioned to him at the interval that I was somewhat cross with him that his indecision kept us from seeing Phantom, but My Fair Lady was so good, I forgave him. He looked puzzled, and then said, "But Phantom is a vely vely good play." Now I'm cross with him again!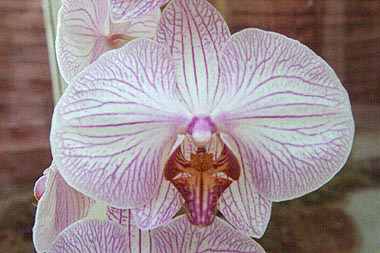 I finally photographed them and took this close up. Beautiful!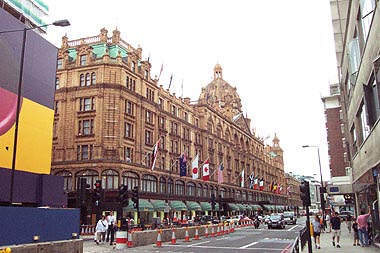 On to Harrods, a favorite stop whenever I'm in London.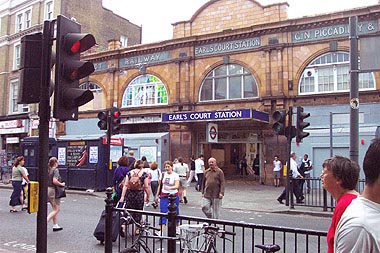 This is the tube station that we used for an entire week. I think that's Elaine dashing across before the green man goes away.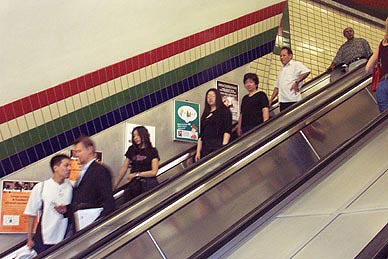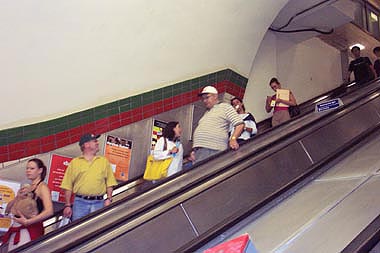 That chap could lose a little weight! We went into the center of London for one more event -- to see the cinema "Crouching Tiger, Hidden Dragon." If you haven't seen it, DO. It's great!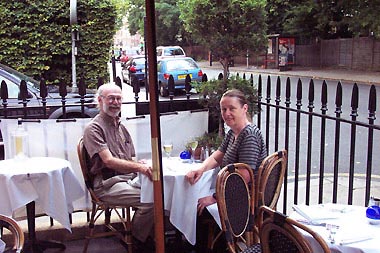 We had yummy salmon and the nice waitress gladly took this picture of us. The hot weather was breaking and London could look forward to cooler weather.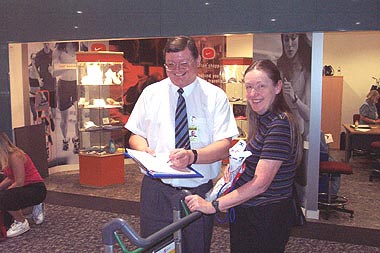 In fact, we were in time to let a Heathrow official interview Elaine about our holiday.