Denali National Park, Alaska
This bus tour ranks as the highlight of our trip, in my estimate. The map to the right shows the single road through the park. We stayed overnight in a Denali River cabin very near to the Denali National Park Visitor Center. Part of the group went on a white water river rafting event in which we did not participate. Those of us that stayed back had dinner on our own and were urged to retire early since the bus tour the next day started very early. I will put some pictures from the rafting trip as an appendix.

We were told after the bus trip that we experienced a 5 bagger. We saw every animal that people came to see, although not all of them ended up in my camera. Some were very small. I will include most of my pictures even though there might be somewhat duplicitous. I tossed out the blurred and unfocused ones.
Our first native animal -- a beautiful moose.

These four are of Mount McKinley, the highest mountain in North America.

A little fuzzy, but really close. This was through the window of the bus.
Almost always cloud covered, but it was early morning and cloud free.
| | |
| --- | --- |
| Trudy and Elaine with mountain barely visible. For a great picture | of McKinley, and more information about this park visit DNP |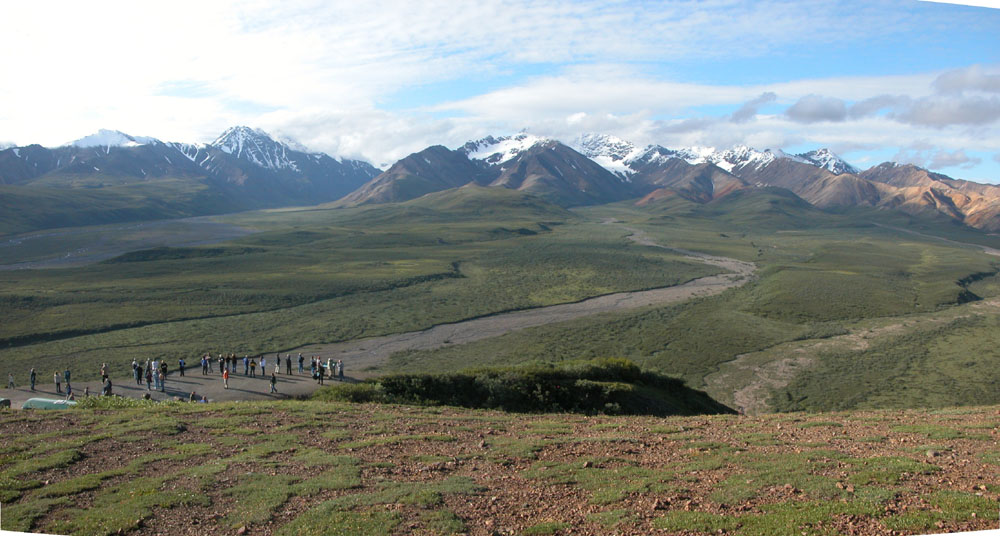 This was a rest stop. The scene above was taken a little higher on the hill than the one below.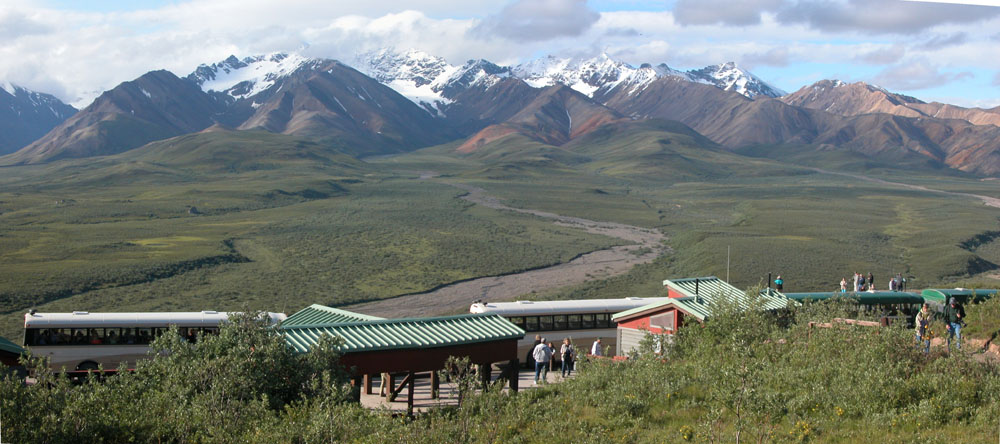 Denali National Park

Denali


National Park


Exceeds NH"s Size


Vast Wilderness Preserve Available


Public

The bus driver spotted a grizzly bear and cub. Bottom right of picture.
The GPS was very useful in finding where to point the camera.

Mt. McKinley, slightly clouded over at the top.

Actually, I'm not sure exactly what the five are. Bear, Caribou, Wolf, and Moose and, I believe, seeing a cloudless Mt. McKinley which isn't really an animal but a rarity. This concludes our tour of Denali National Park. Next, we board a bus and head for Fairbanks, the last stop on our Alaska tour.

To the left is Jim's first Cinquain describing this magical tour.
WOW! They were coming straight toward us.
Didn't need a GPS here. She was right outside our window.

Wandering Cub

Mama


Adventurous Cub


Searching for Offspring


Picks Up Certain Scent


Reunited

Bear and Cub

Tundra


Brown Bear


Teaching the Cub


Oblivious to Human Intrusion


Natural

Thanks, Jim, for letting me use your Cinquains.
Finally, three Caribou feeding down in the moraine. The driver said we were very lucky to see as much as we saw in one trip.

Grand Slam

Denali


Grand Slam


Got All Five


UU Karma Magically Produced


Beneficiaries