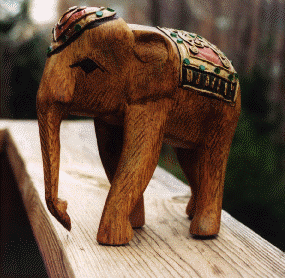 This was perhaps our most memorable day in Thailand. The little carved elephant was bought in Bangkok and now sits on a ledge in Claire and Jerry's home in Olney, but our elephants in Thailand are described very well in the Berlitz guide book entitled "Discovering Thailand".

Elephant Camps

A one hour's drive north of town will bring you to the town of Mae Taem, beyond which lies one of Chiang Mai's most famous attractions: the Elephant Training Centre.

Inside a vast forested area, bisected by a river, mahouts teach elephants to drag logs, to respond to commands and to work the jungle. If you arrive before 9.30 a.m. you can also see anything up to 30 of them being washed and soaped down in the river.

Until a nationwide logging ban was introduced in 1989, many of these same elephants were used to drag timber down to the river, whence the logs would be floated down to saw mills further down stream. These days, the centre caters specifically to tourists, but still remains one of the great highlights of any trip to Chiang Mai.

At the end of the show, you can take bamboo rafts down the river, returning by elephant through lush forest and woodlands. Be sure to bring a camera and arrive early. Coachloads of tourists generally arrive for the second show; by 11 a.m. the place generally resembles an Egyptian camel market.